Christmas Gaara Naruto Ugly Christmas Sweater
Keep tabs on all of Christmas Gaara Naruto Ugly Christmas Sweater orders. It's important to be aware of all the possible delays your orders are facing so that you can keep your customers updated. If factors change and delays increase on a given order be certain to quickly share this information with your customer. Consider sending update emails to customers that have active orders during the holiday. You know that they're thinking about it and if they don't hear from you they're likely to contact you. So be proactive and send out frequent alerts. They don't have to be long. Just a quick blurb stating the current status of the order and how much longer delivery is likely to take. More than anything customers want to know that you understand why they might be upset and that you're doing the best you can to keep them alerted to the status of their order. This small gesture will go a long way.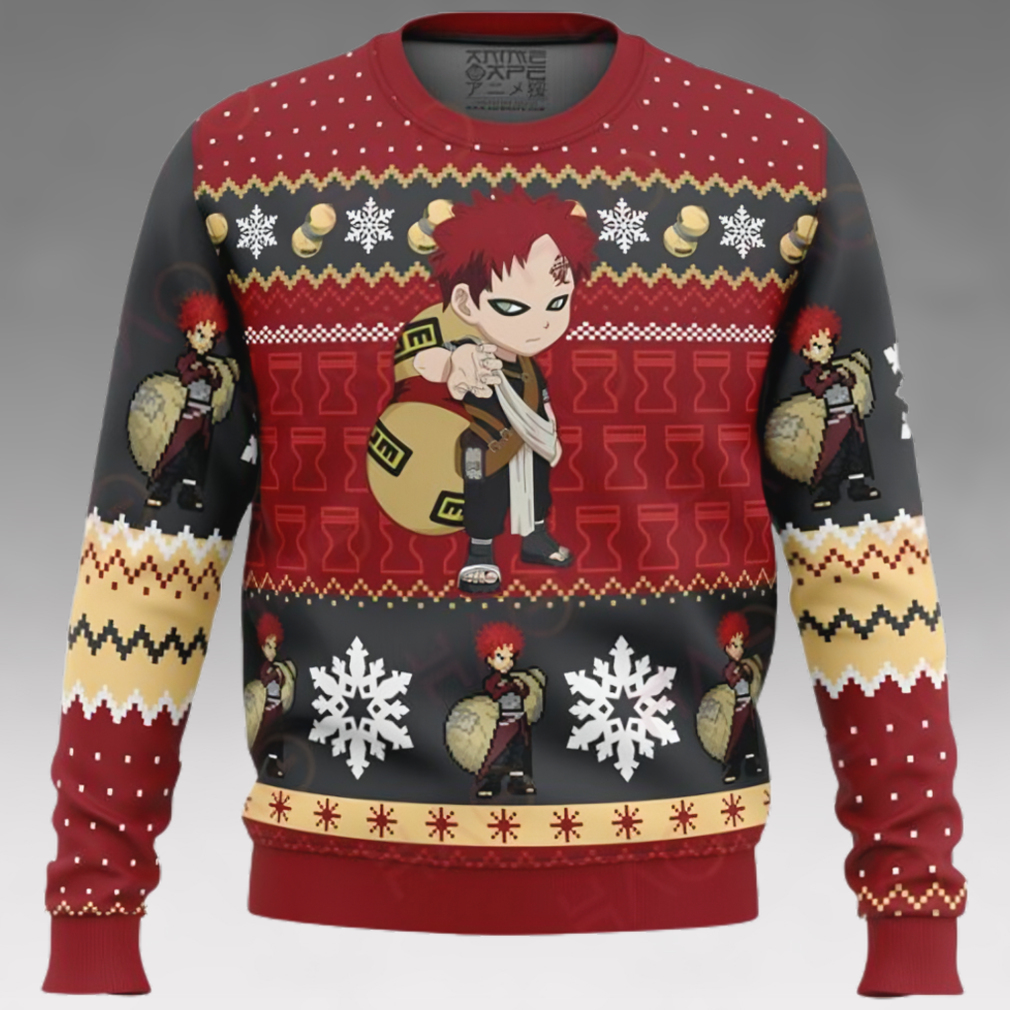 (Christmas Gaara Naruto Ugly Christmas Sweater)
When I was quite small, my family were Jehovah's Witnesses. My big brothers remembered their Catholic beginnings, they remembered magical Christmases. My little brother and I did not, we'd never been Catholic yet. We used to get very sad that all of our friends had lovely Christmas or Hanukkah, and we did not. We'd pout. My big brothers tried their best to console us. Our best friends lived across the Christmas Gaara Naruto Ugly Christmas Sweater . Their dad was not home much, but he was a very stern man. He had quite the temper (when we grew up, we realized that he was always drunk, but when we were small he was just scary). He had a Doberman called Rex who we were all also terrified of. One year, I'm probably four or five, we're sitting in my brothers' room wistfully staring out the window at our friends playing with their new toys, wearing their Christmas sweaters, all that. The oldest two brothers, maybe trying to console us, convince us that we do not want Christmas at all. They tell us that Scary Dad is Santa Claus. They tell us that Rex the Doberman is actually Rudolph. Would we really want Rex landing on our roof? Would we really want Scary Dad judging whether we were naughty or nice, and sneaking into our house while we slept?
Christmas Gaara Naruto Ugly Christmas Sweater, Hoodie, Sweater, Vneck, Unisex and T-shirt
Best Christmas Gaara Naruto Ugly Christmas Sweater
The Christmas Gaara Naruto Ugly Christmas Sweater to answering your question is experience. We exist to experience; we know we exist because we experience our own existence. The second key is observation. We observe our existence, our experience. We witness, record, and reflect upon our experience. The third key is intention. From observations of our experiences, we build a theory of "reality", and make choices to act or not act based on that theory. We form an intention to create a specific experience that we want to observe. Now we have a sufficient solution to the problem. Experience, observation, and intention together create reality. They cannot exist without each other. None is more fundamental than the other, and none can be removed without destroying the others. Experience, observation, and intention: the grand experiment. We exist to try things, experience them, and observe the result. There is no meaning beyond that; when we are gone, all those things are gone too. We should use the little time we have to make as many experiments as possible. We have been blessed with the opportunity to experience, observe, and intend, and we should not waste it.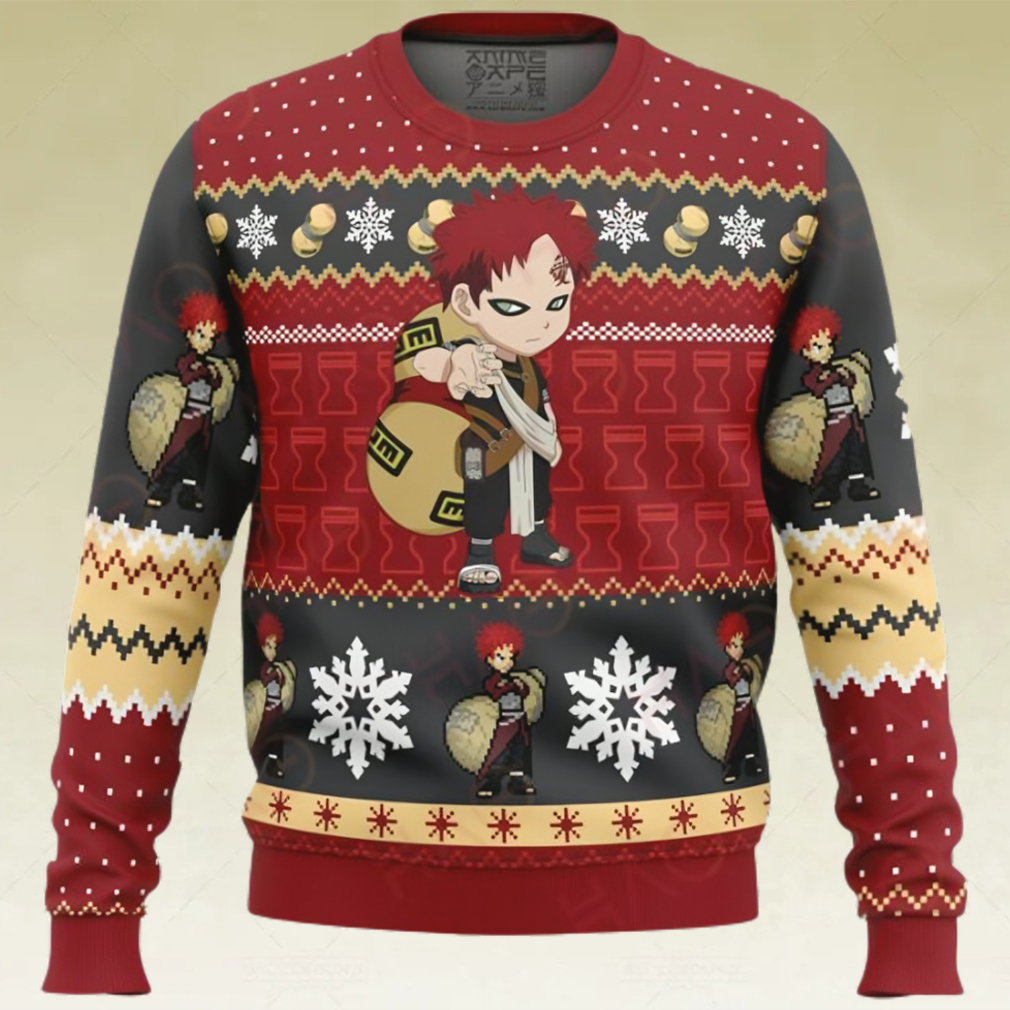 (Christmas Gaara Naruto Ugly Christmas Sweater)
Among my duties was to keep seasonal decorations up to date. In this huge store that meant everything from designing window murals on glass to puppet displays in the Christmas Gaara Naruto Ugly Christmas Sweater and decorations hung from the ceiling. That year I decided I wanted to have Santa having a beach Christmas as a new thing- I had not seen it done before. The signpainter and I sat down and designed a scene where Santa's sleigh was drawn by kangaroos and koalas sat on the sand with waves in the background. This was for the huge front windows. Well the signwriter went away and came back with stencils he'd cut of the scene and asked me if he could use them for other clients. I said yes, that year Santa on the beach became very popular!